Grief
PLEASE ENCOURAGE
AUTHOR BY COMMENTING


Leave Comment
Message Writer
Hire Writer
Report Article
LIFE AFTER DEATH
by
Jody Goode
05/18/09
Free to Share
Author requests article critique
Message Writer
Hire Writer
---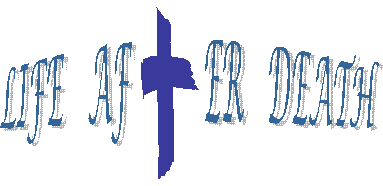 When your loved one has fallen asleep in Jesus
And you are left behind for a time to carry on
Each day seems to last a thousand years
As you search for the eagle's wing to soar upon

Memories haunt your waking hour
And grief steals precious time from slumber
Remembering though,
Your vow of love had made you one by your Lord's almighty power
That no man by his might could ever put asunder

The God you love and Whom so loved you
Is the same God Who gives and also takes away
For it was His only Son He first gave to us and then withdrew
A mystery for sure - His Way is not your way

After a time has passed
When your pain has lost some sting
No longer drowning in your tears, your sorrow upon Him cast
Like a river washing over your soul, you have found the eagle's wing

Soaring now above the fray
The Son of Light upon you poured
His Truth resounds - He is the Way!
Death has come, but HALLELUJAH! ~ Life in Him has been restored
PLEASE ENCOURAGE AUTHOR
,
LEAVE COMMENT ON ARTICLE
Read more articles by
Jody Goode
or search for other articles by topic below.
---
Search for articles on: (e.g. creation; holiness etc.)
Read more by clicking on a link:
Free Reprints
Main Site Articles
Most Read Articles

Highly Acclaimed Challenge Articles
.
New Release Christian Books for Free for a Simple Review
.
NEW - Surprise Me With an Article - Click here for a random URL

God is Not Against You - He Came on an All Out Rescue Mission to Save You
...in Christ God was reconciling the world to himself, not counting their trespasses against them... 2 Cor 5:19
Therefore, my friends, I want you to know that through Jesus the forgiveness of sins is proclaimed to you. Acts 13:38
LEARN & TRUST JESUS HERE
The opinions expressed by authors do not necessarily reflect the opinion of FaithWriters.com.
Member Comments
Jody, what a wonderful comfort this is, and how much it would mean to someone who has just lost a loved one. The poem is not only beautifully presented, it is soothing to read...God bless you as I know this will bless many...Thanks, too for your comment on my article-story about Elijah...Helen
This is beautiful Jody. It is a very encouraging piece that will help with the process of healing for those who are grieving. God bless!
WOW! This was beautifully written, and very heart touching. Only someone who has experienced the loss of a loved one could write with such emotion .. thank you for sharing!