Poetry
PLEASE ENCOURAGE
AUTHOR BY COMMENTING


Leave Comment
Message Writer
Hire Writer
Report Article
God Allows U-turns
by
Nancy Hardy
04/13/06
Not For Sale
Author requests article critique
Message Writer
Hire Writer
---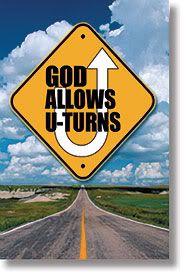 As I merge onto the thoroughfare of life
may I never forget to yield to Your ways;
stop to heed the warnings You've posted
Along the infrastructure of this final journey.

Please help me to drive defensively, while
negotiating my way through the many lanes
of road rage and countless alternate routes;
always using Your Holy Map to guide me Home.

When my faith's gone flat from random nails of distrust,
and my exhausted spirit has run out of energy
let me pray, the emergency flare of my heart,
and I will beg brightly for You to rescue me.

And when I am lost and have strayed too far off course;
when I have boldly wandered into deadly danger zones,
may I humble myself and ask for directions, knowing that
Heaven's mercy always allows its drivers to make U- turns.
* Exclusively penned for the glory of God!
PLEASE ENCOURAGE AUTHOR
,
LEAVE COMMENT ON ARTICLE
Read more articles by
Nancy Hardy
or search for other articles by topic below.
---
Search for articles on: (e.g. creation; holiness etc.)
Read more by clicking on a link:
Free Reprints
Main Site Articles
Most Read Articles

Highly Acclaimed Challenge Articles
.
New Release Christian Books for Free for a Simple Review
.
NEW - Surprise Me With an Article - Click here for a random URL

God is Not Against You - He Came on an All Out Rescue Mission to Save You
...in Christ God was reconciling the world to himself, not counting their trespasses against them... 2 Cor 5:19
Therefore, my friends, I want you to know that through Jesus the forgiveness of sins is proclaimed to you. Acts 13:38
LEARN & TRUST JESUS HERE
The opinions expressed by authors do not necessarily reflect the opinion of FaithWriters.com.
Member Comments
A good perspective to ponder! Another inspirationally beautiful one to meditiate on - thanks! Love, Pat
Nancy,
I have missed you so much. You are an encouragement to all with your writing that glorifies the Lord.
Yes, indeed He does allow U-turns. When He sees us getting turned in the wrong direction, He soon puts up a STOP sign, and turns us back to the path of life. You are such a blessing and such an inspiration to us all. Love you, Sharon
This article has been read 1387 times
< Previous
| Next >