Poetry
PLEASE ENCOURAGE
AUTHOR BY COMMENTING


Leave Comment
Message Writer
Hire Writer
Report Article
Little Hand
Message Writer
Hire Writer
Tweet
---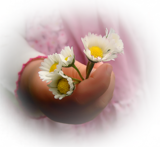 What is held in a little hand-
A flower or a key…
Curiosity to understand?

How much trust is found in a little hand?
That reaches for another
In life's journey across the land.

A little hand can hold your heart…
Enter your dreams-
Where you are both laughing
At golden sunbeams
That dance upon streams.

A little hand can brighten your day
With warmth and love
In the most gentle
And timeless way .




Julie Pisacane © 2011
PLEASE ENCOURAGE AUTHOR
,
LEAVE COMMENT ON ARTICLE
Read more articles by
Julie Pisacane
or search for other articles by topic below.
---
Search for articles on: (e.g. creation; holiness etc.)
Read more by clicking on a link:
Free Reprints
Main Site Articles
Most Read Articles

Highly Acclaimed Challenge Articles
.
New Release Christian Books for Free for a Simple Review
.
NEW - Surprise Me With an Article - Click here for a random URL

God is Not Against You - He Came on an All Out Rescue Mission to Save You
...in Christ God was reconciling the world to himself, not counting their trespasses against them... 2 Cor 5:19
Therefore, my friends, I want you to know that through Jesus the forgiveness of sins is proclaimed to you. Acts 13:38
LEARN & TRUST JESUS HERE
The opinions expressed by authors do not necessarily reflect the opinion of FaithWriters.com.
Member Comments
The awesome wonder of 'the little ones'! They are our anchor to innocence and simple pleasures when the reality of life brings burden. They can remind us how to lay our burdens down and take up the yoke that Christ offers. They are one of God's greatest blessings.