Poetry
PLEASE ENCOURAGE
AUTHOR BY COMMENTING


Leave Comment
Message Writer
Hire Writer
Report Article
Gardens of Righteousness
Message Writer
Hire Writer
Tweet
---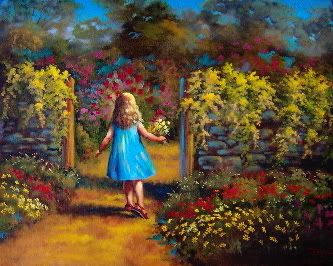 Gardens of Righteousness


Guide us dear Lord,
in our needs
As we plant the gardens
And evict the weeds.

Gardens,
In sweet silence
Are sown,
With a joyful spirit
And patiently grown.

Each heart is the tool
Tending to the ground
That life may emerge
And gracefully abound.

Hear us dear Lord, in our prayer
Bring us the Sonshine and fresh air…
Cast dewdrops of comfort...
To remove all despair.

Paint everything green…
Let True Light shine bright
May the gardens spring forth,
With praise and delight!

Julie Pisacane © 2007

Isaiah 61:11
For as the earth bringeth forth her bud, and as the
garden causeth the things that are sown in it to spring forth;
so the Lord GOD will cause righteousness and
praise to spring forth before all the nations.

PLEASE ENCOURAGE AUTHOR, LEAVE COMMENT ON ARTICLE
Read more articles by Julie Pisacane or search for other articles by topic below.


---
Search for articles on: (e.g. creation; holiness etc.)

Read more by clicking on a link:
Free Reprints
Main Site Articles
Most Read Articles
Highly Acclaimed Challenge Articles.
New Release Christian Books for Free for a Simple Review.
NEW - Surprise Me With an Article - Click here for a random URL

God is Not Against You - He Came on an All Out Rescue Mission to Save You

...in Christ God was reconciling the world to himself, not counting their trespasses against them... 2 Cor 5:19

Therefore, my friends, I want you to know that through Jesus the forgiveness of sins is proclaimed to you. Acts 13:38

LEARN & TRUST JESUS HERE

The opinions expressed by authors do not necessarily reflect the opinion of FaithWriters.com.

Member Comments
Very peaceful atmosphere here!
Such a wonderful sense of peace washes over me as I read this poem. It's simply beautiful. How merciful is the Lord to have allowed me to take this walk through His garden of righteousness.
Dear Julia, what a wonderful poem! Wow! God sure has been busy evicting the weeds from my life! Thanks for sharing.
Thomas
Sorry, I meant to type Julie. Julia is another great friend.
Thomas
Julie this is so peaceful to read. I find rest in these words. Thanks for sharing. God bless you.
A lovely poem, with again, another beautiful picture. Sure would like to know how you get these pictures on to FW. I enjoy your writing so much, Julie, and keep on enjoying the poetry book you sent. ... I am so glad that we have Gardens of Righteousness to enjoy and participate in. God bless you... Helen
Only beauty can come of a beautiful faith - enjoy the stroll through your garden of righteousness my dear friend. Jody
I imagine this picture looks like the garden of Eden must have looked and the poem is very tender and rich in beauty. Thanks again for sharing your gift. In Christ's Love,

Julia