Christian Living
PLEASE ENCOURAGE
AUTHOR BY COMMENTING


Leave Comment
Message Writer
Hire Writer
Report Article
THE GOOD SHEPHERD
Message Writer
Hire Writer
---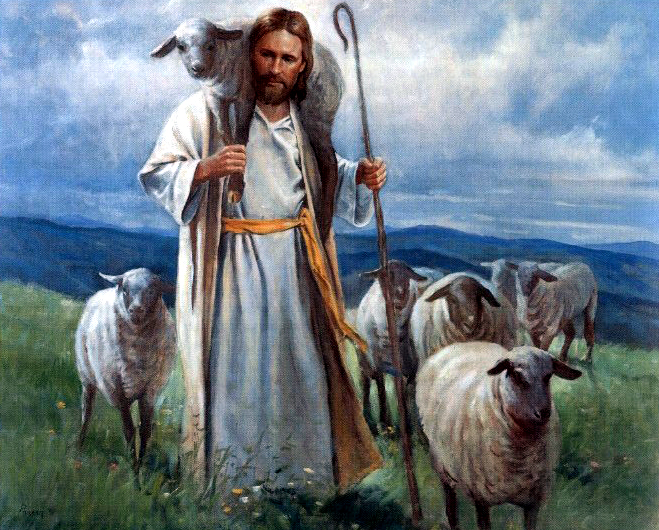 "The Lord is my shepherd; I shall not want. He makes me lie down in green pastures. He leads me beside still waters. He restores my soul. He leads me in paths of righteousness for his name's sake. Even though I walk through the valley of the shadow of death, I will fear no evil, for You are with me; Your rod and Your staff, they comfort me. You prepare a table before me in the presence of my enemies; You anoint my head with oil; my cup overflows. Surely, goodness and mercy shall follow me all the days of my life, and I shall dwell in the house of the Lord forever. (Psalm 23:1-6)
This all started in the Sunday morning church service. The preliminaries were great, but when it came time for the preaching is when I lost it. For you see, being an old farm boy, our pastor would often tend to compare the Bible, with his past farm experiences, and on this particular Sunday, his sermon on was built around comparing Jesus to a shepherd. I failed to understand.
This criticism just seemed to fester and continue into the night, so I decided to give up my condemnation and tuck myself into bed. That's when it all happened, another dream.
I happened to be roaming the hills and valleys when suddenly I came upon two rather large herds of sheep. As these two herds merged to make one, what was so unique about the herds was that each herd had a certain distinction about it.
These two herds were divided by two separate very large body tattoos. One tattoo displaying the word 'Israel' and the other tattoo bearing the word 'Church.' Roaming within these herds of sheep was what seemed like the head shepherd. He too had a tattoo which read 'Good Shepherd.'
I couldn't help but approach this strange character, just to ask what all this unusual sheep display was about. The shepherd answered by quoting a certain verse of scripture. "I am the good shepherd; and I know My own, and My own know Me." (John 10:14)
"Now, I'm really confused," I said. "You sound just like my church pastor. Can you please explain what you mean?"
"Sure! Let us look to God's Holy Word. Are you familiar with the Twenty-Third Psalm?" He exclaimed.
"Yes I am," I replied.
"Then, let me continue," the Shepherd concluded.
"You see Scripture that oftentimes uses an analogy of humans being referred to as sheep. There are two main classes of these sheep who have dwelt in this universe for over 2000 years; those being the children of Israel, the Jewish people and the followers of the church, the Christians. These two entities are two separate flocks, having one Shepherd, their
Messiah."
"These sheep, labeled 'Israel' follow the law, while the sheep labeled 'Church' follow the Spirit. Israel looks forward to one day occupying the earthly Promised Land. The church is looking forward to occupying the Promised Land of Heaven. Israel is looking forward to the promised city of Jerusalem, while the Church is looking forward to the New Jerusalem, Heaven."
"However, as you can see from these two flocks joining each other, so may these two entities join each other in Christ Jesus. For the scripture tells us that whosoever believes in Jesus can be saved." (John 3:16)
He then gave an explanation of these sheep grazing together and His part as the Shepherd. As the good Shepherd, I gave my life for My sheep (Hebrews 13:20-21), those sheep, both Israel and the Church who were blended together by accepting God's grace. (Ephesians 2:16) As the good Shepherd, I rose from the dead as the Chief Shepherd to care for My sheep. (I Peter 5:4) Soon I will come again for My sheep. (I Cor. 15:1-52) (I Thess 4:13-17)
"Now I understand. These two flocks, Israel and the Church can now become one in Christ. So you must be the Shepherd of Israel, but You are also the Shepherd of the Church. The Church doesn't replace Israel, but only serves to complement it."
"You got it!" He exclaimed, showing a big smile.
The Good Shepherd then continued with His dissertation.
"Yes, after the day of Pentecost and the indwelling of the Holy Spirit, (Acts 2:1-4) the first church was born in Jerusalem, (Acts 3:41-47) made up of Jewish believers. However, thanks mainly to the apostle Paul, the Gentiles were also grafted into God's church, He concluded. Thus, God's sheep are now herding together. (Acts 13:46) (Acts 28:28)
Suddenly, as when I fell off to sleep, I woke up. Wow, did I get an ear full or dream full! My mind was surely changed that night. Changed so I just had to call my pastor and offer an apology for not believing. Thank God, he was more than understanding. He surely made a believer out of me. I'll never again question his wisdom.
Author's Postscript (Taken from web site- allaboutjesuschrist.org/jesus-the-good-shepherd)
Jesus is the good shepherd to His believers just as the shepherds were of their livestock. A shepherd tended his flock day and night. He would gather the sheep into a sheepfold at night for their protection. The sheepfold was a pen, a cave, or an area backed by stone walls. Since there were no doors, the shepherd would often sleep or sit in the opening, ready to guard his sheep from harm.

Being different than a hired keeper who might run away in the face of danger, the flock belonged to the shepherd who would stay and defend them. He had a genuine loving concern for what belonged to him. In John chapter 10, Jesus illustrates how the shepherd cares for his flock, protecting them from weather, thieves, and predatory animals. He loved and shielded them and if necessary, he would lay down his life for them.

Jesus is that loving protector and caretaker for His flock. Ezekiel 34 foretold of the Messiah who would, like a true shepherd, come to caringly keep God's people. It was a loving message of the coming Christ, the good shepherd.

John 10 tells us how thieves and wolves come to destroy the sheep. But the good shepherd is there to save them. These verses tell us that though Satan comes to steal, kill, and destroy God's people (John 10:10), Jesus is there to protect, love, and save us from destruction, giving us eternal life. Jesus came not to merely be the hired keeper but came as the one (the only one), who was and is, completely committed to us -- even to His own death and resurrection. Jesus is the good shepherd who lay down His physical life for you and me.

Jesus the good shepherd's purpose is to give life and protect from destruction. You may be asking yourself why Jesus needed to give His life for our protection. We all have sinned! By our sin, we are lost to the eternal life God has for us. We will not enter heaven if we don't accept Jesus the good shepherd. Jesus' blood was shed as payment for our sins. But He was resurrected; He lives as our shepherd today!

When we accept this gift, when we believe that He did this for us, we are saved from paying the debt ourselves. Romans 6:23 says: "For the wages of sin is death, but the free gift of God is eternal life through Christ Jesus our Lord." John 6 says that Jesus is the true bread from heaven. John 6:33 says, "The true bread of God is the one who comes down from heaven and gives life to the world." Have you accepted the life He offers?

WHAT DO YOU THINK? - We have all sinned, Jew and Gentile alike and deserve God's judgment. God, the Father, sent His only Son to satisfy that judgment for those who believe in Him. Jesus, the creator and eternal Son of God, who lived a sinless life, loves us so much that He died for our sins, taking the punishment that we deserve, was buried, and rose from the dead according to the Bible. If you truly believe and trust this in your heart, receiving Jesus alone as your Savior, declaring, "Jesus is Lord," you will be saved from judgment and spend eternity with God in heaven.
PLEASE ENCOURAGE AUTHOR
,
LEAVE COMMENT ON ARTICLE
Read more articles by
Charles (Chuck) Robey
or search for other articles by topic below.
---
Search for articles on: (e.g. creation; holiness etc.)
Read more by clicking on a link:
Free Reprints
Main Site Articles
Most Read Articles

Highly Acclaimed Challenge Articles
.
New Release Christian Books for Free for a Simple Review
.
NEW - Surprise Me With an Article - Click here for a random URL

God is Not Against You - He Came on an All Out Rescue Mission to Save You
...in Christ God was reconciling the world to himself, not counting their trespasses against them... 2 Cor 5:19
Therefore, my friends, I want you to know that through Jesus the forgiveness of sins is proclaimed to you. Acts 13:38
LEARN & TRUST JESUS HERE
The opinions expressed by authors do not necessarily reflect the opinion of FaithWriters.com.