Faith
PLEASE ENCOURAGE
AUTHOR BY COMMENTING


Leave Comment
Message Writer
Hire Writer
Report Article
Flickering Lights
by
Julie Pisacane
10/29/12
Not For Sale
Author requests article critique
Message Writer
Hire Writer
---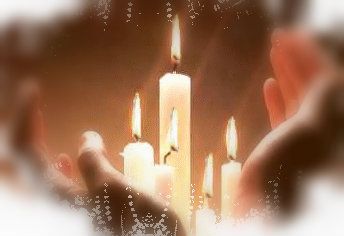 Flickering Lights

From the outside looking in
A church stands in my view
greeting outsiders with peace
and welcoming lights...
Soft and dim.

From a darkening night
I now stand in delight
As the flickering glow
Silently calls me-
Inside I shall go.

I walk toward the entrance
Not feeling afraid
As God guided me to
A prayerful place
Where hymns are joyously played.

Melodies on strings
Everyone sings
With a candle in each hand
This is where I belong
United with my Christ family
in faith,true light and song.

May God hold each of us
as a candle in His Hand
to guide others still in darkness
to His Sanctuary...His promised land.

PLEASE ENCOURAGE AUTHOR, LEAVE COMMENT ON ARTICLE
Read more articles by Julie Pisacane or search for other articles by topic below.


---
Search for articles on: (e.g. creation; holiness etc.)

Read more by clicking on a link:
Free Reprints
Main Site Articles
Most Read Articles
Highly Acclaimed Challenge Articles.
New Release Christian Books for Free for a Simple Review.
NEW - Surprise Me With an Article - Click here for a random URL

God is Not Against You - He Came on an All Out Rescue Mission to Save You

...in Christ God was reconciling the world to himself, not counting their trespasses against them... 2 Cor 5:19

Therefore, my friends, I want you to know that through Jesus the forgiveness of sins is proclaimed to you. Acts 13:38

LEARN & TRUST JESUS HERE

The opinions expressed by authors do not necessarily reflect the opinion of FaithWriters.com.

Member Comments
I love this, especially the picture that accompanies these beautiful words you have penned. God bless you...
Praying always to be a light in God's Hand to draw others in toward Heaven's Home. Thank you, Julie! Beautiful :)