Poetry
PLEASE ENCOURAGE
AUTHOR BY COMMENTING


Leave Comment
Message Writer
Hire Writer
Report Article
White Horse Warrior
by
lynn gipson
09/11/12
Free to Share
Author requests article critique
Message Writer
Hire Writer
---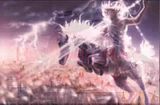 White Horse Warrior
Who is this majestic white horse rider?
Roaring vengeance through the clouds,
Unfamiliar to the ones who've followed,
Him with faith and love so proud.
Is this a warrior come to take us,
To the promised land we know,
Will be our final destination,
God declared where we will go?
Is this a man who comes in anger?
At those forsaking once again,
To bring the chosen ones who love Him,
From a place of worldly sin?
Is this the one that comes to judge?
All the earth and all the lands,
Is it the one we've heard about,
Come to save the world again?
Is this the once gentle person,
Before has walked in Israel?
Now a warrior with a mission,
On a horse with eyes of peril.
Who is this rider flashing lightning?
With trumpets blaring, harps strumming,
Dressed in all His finest glory,
It is the Christ of the Second Coming.
PLEASE ENCOURAGE AUTHOR
,
LEAVE COMMENT ON ARTICLE
Read more articles by
lynn gipson
or search for other articles by topic below.
---
Search for articles on: (e.g. creation; holiness etc.)
Read more by clicking on a link:
Free Reprints
Main Site Articles
Most Read Articles

Highly Acclaimed Challenge Articles
.
New Release Christian Books for Free for a Simple Review
.
NEW - Surprise Me With an Article - Click here for a random URL

God is Not Against You - He Came on an All Out Rescue Mission to Save You
...in Christ God was reconciling the world to himself, not counting their trespasses against them... 2 Cor 5:19
Therefore, my friends, I want you to know that through Jesus the forgiveness of sins is proclaimed to you. Acts 13:38
LEARN & TRUST JESUS HERE
The opinions expressed by authors do not necessarily reflect the opinion of FaithWriters.com.
Member Comments
I really enjoyed this one, Gives me alot to think about.
Hi -

Thank you for this rich message.

Even so, Lord Jesus, come!