Missions
PLEASE ENCOURAGE
AUTHOR BY COMMENTING


Leave Comment
Message Writer
Hire Writer
Report Article
Six Thousand Angels
by
lynn gipson
08/05/12
Free to Share
Author requests article critique
Message Writer
Hire Writer
---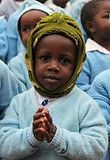 Elizabeth is a twelve year old girl living the slum of Kibera in Africa, where over a half of a million people live in poverty. There is no electricity or running water. Her mother is deceased and her father works odd jobs to make a few shillings. She is fortunate to be alive, as many children die here before the age of six.
The house she lives in is a mud shack. The ground is used for a toilet, bringing stench and diseases. Sewage runs like rivers of water through the village during the rainy season.
Elizabeth canít go to school because she must stay home and care for her younger brothers and fetch water. She walks quite a distance and must carry heavy containers. She sometimes has to pay for water, so she gets very little. The family goes without washing their hands or bodies because water must be used for drinking.
Due to the sanitary conditions, diseases like malaria and dysentery are rampant in the village. Both children and adults get sick and die. Medical help comes from outside and is scarce.
Elizabethís four year old brother Dominick is dying. She hears a new clinic on the edge of Kibera has opened, so she literally carries him there. He has severe stomach trouble and is dehydrated. The child moans in agony as the doctor does all she can, but it is too late. God mercifully takes another angel home.
Elizabeth sobs as she steps out of the clinic with her brotherís lifeless body in her arms, and sees a golf course with water sprinklers running over a lush, green, lawn. A high fence separates the rich from the slums of Kibera. Children
dying for water
stand outside the fence watching men play golf, and eyeing the water as it quenches the thirst of the grass. They do not understand.
The characters in the above story are fictionalized, the events are not. A child like Dominick is just one of 6000 children dying in Africa every day.
6000 a day!
There is a
global water crisis
in this world many people are either unaware of or simply choose not to think about.
We must do something to help!
In 2008, Dick and Terri Greenly (co-owners of Pumps of Oklahoma) founded a public charity called The
Water4
Foundation to provide water to impoverished areas such as Kenya, Ghana, Haiti and many others. They not only drill wells at a small fraction of the cost of others, they also teach the gospel of Christ and get the natives involved by providing them employment opportunities and allowing them to become a part of a solution to their own water shortage problem.
Please go to
Water4
and learn more, and then, give! Even the smallest donation will help
save a child
by providing clean, safe, water. These children are Godís most precious angels, and they need your help. You will be blessed many times over!
PLEASE ENCOURAGE AUTHOR
,
LEAVE COMMENT ON ARTICLE
Read more articles by
lynn gipson
or search for other articles by topic below.
---
Search for articles on: (e.g. creation; holiness etc.)
Read more by clicking on a link:
Free Reprints
Main Site Articles
Most Read Articles

Highly Acclaimed Challenge Articles
.
New Release Christian Books for Free for a Simple Review
.
NEW - Surprise Me With an Article - Click here for a random URL

God is Not Against You - He Came on an All Out Rescue Mission to Save You
...in Christ God was reconciling the world to himself, not counting their trespasses against them... 2 Cor 5:19
Therefore, my friends, I want you to know that through Jesus the forgiveness of sins is proclaimed to you. Acts 13:38
LEARN & TRUST JESUS HERE
The opinions expressed by authors do not necessarily reflect the opinion of FaithWriters.com.