Poetry
PLEASE ENCOURAGE
AUTHOR BY COMMENTING


Leave Comment
Message Writer
Hire Writer
Report Article
Pendulum
Message Writer
Hire Writer
Tweet
---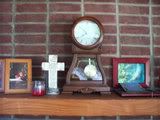 Pendulum
Quiet movement
Back and forth
Graceful pace-
Underneath
Clock's face...
Sitting
On the mantle
Above the
fireplace.
Left to right
Right to left
Swinging away
behind the
glass case
To the moments
of this day-
As the gift
of tomorrow
Has not yet
arrived.
Pendulum
Sways only
To the moments
Of now-
So, live wisely
Find your joy
In this amazing life
Trust God's will
Before blessed time
Without announcement
Becomes...
still.

Psalm 90:12
So teach us to number our days, that we may
apply our hearts unto wisdom.

Julie Pisacane 6/14/12
PLEASE ENCOURAGE AUTHOR
,
LEAVE COMMENT ON ARTICLE
Read more articles by
Julie Pisacane
or search for other articles by topic below.
---
Search for articles on: (e.g. creation; holiness etc.)
Read more by clicking on a link:
Free Reprints
Main Site Articles
Most Read Articles

Highly Acclaimed Challenge Articles
.
New Release Christian Books for Free for a Simple Review
.
NEW - Surprise Me With an Article - Click here for a random URL

God is Not Against You - He Came on an All Out Rescue Mission to Save You
...in Christ God was reconciling the world to himself, not counting their trespasses against them... 2 Cor 5:19
Therefore, my friends, I want you to know that through Jesus the forgiveness of sins is proclaimed to you. Acts 13:38
LEARN & TRUST JESUS HERE
The opinions expressed by authors do not necessarily reflect the opinion of FaithWriters.com.