Christian Living
PLEASE ENCOURAGE
AUTHOR BY COMMENTING


Leave Comment
Message Writer
Hire Writer
Report Article
Mercy Is Calling
by
lynn gipson
05/20/12
Free to Share
Author requests article critique
Message Writer
Hire Writer
---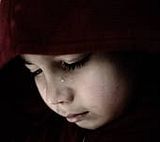 For the children left all alone in this world,
Crying out loud and not to be heard.
What becomes of their souls when we look away?
Mercy is calling on our hearts today.
They see not the world as we do in kind,
We see joy, excitement, and good in our minds.
They see the darkness, misery and pain,
Mercy Is calling on us once again.
What becomes of this child living in fear?
Does anger replace the terror and tears?
Do we just keep living and try to forget it?
Mercy is calling to say we'll regret it.
These children are one with our Creator.
Don't push thoughts away to think about later.
Our children, brothers and sisters in Christ,
Mercy is calling to say help them with life.
They starve, they freeze, they hurt, they need.
We must give love and warmth, we must feed.
Their bodies shrivel, their spirits die,
Mercy is calling do not cast them aside.
They look to God for answers to why,
Everyone sees but just passes them by.
God cries at us from the Heavens above,
Mercy is calling! Mercy is calling! For love.
PLEASE ENCOURAGE AUTHOR
,
LEAVE COMMENT ON ARTICLE
Read more articles by
lynn gipson
or search for other articles by topic below.
---
Search for articles on: (e.g. creation; holiness etc.)
Read more by clicking on a link:
Free Reprints
Main Site Articles
Most Read Articles

Highly Acclaimed Challenge Articles
.
New Release Christian Books for Free for a Simple Review
.
NEW - Surprise Me With an Article - Click here for a random URL

God is Not Against You - He Came on an All Out Rescue Mission to Save You
...in Christ God was reconciling the world to himself, not counting their trespasses against them... 2 Cor 5:19
Therefore, my friends, I want you to know that through Jesus the forgiveness of sins is proclaimed to you. Acts 13:38
LEARN & TRUST JESUS HERE
The opinions expressed by authors do not necessarily reflect the opinion of FaithWriters.com.
Member Comments
Lynn--This picture is so heartfelt. It is perfect for this poem. This poem is very good and it shows everyone that we should help them. I pray that it wakes everyone up. It sure did wake me up. There are more starving children right here in the United States than we think. There are children on the streets. Thank you Lynn for putting the children in our awareness. God Bless.