Poetry
PLEASE ENCOURAGE
AUTHOR BY COMMENTING


Leave Comment
Message Writer
Hire Writer
Report Article
No Hope?
Message Writer
Hire Writer
Tweet
---

No hope to hold on
Losing reality
Nothing worth to live
In actuality

Chasing falling stars
Chasing a breath of wind
Nothing to hold on
You feel like giving in

Nothing more to give
Not worth getting through
You start to wonder when
Distorted became the view

Every day is new,
With every breath you take
Someone is waiting
To forgive your mistake

To share life with you
Donít give up on it now
You only have one life
Christ will show you how

Listen to his word
Listen to his love
Donít waste your life on
What dreams are made of.

You're worth so much more
Donít throw it all away
Donít let it get to you
Jesus will pave the way

He is waiting to show
That life is so much more
No matter where youíve been
A treasure is in store

A life full of despair
Apart from Godís grace
Arise weary heart
Gaze upon His face

Life may not seem much
Regret is a fleeting thing
Give your heart a chance
To love an eternal King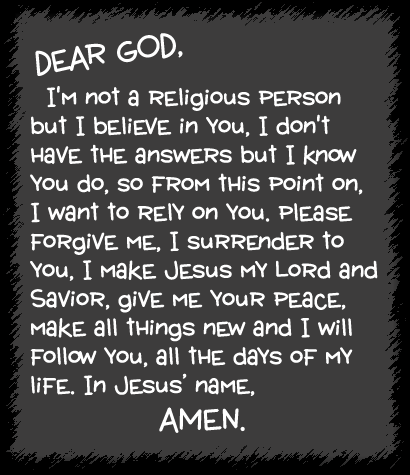 PLEASE ENCOURAGE AUTHOR, LEAVE COMMENT ON ARTICLE
Read more articles by Danette Kettwich or search for other articles by topic below.


---
Search for articles on: (e.g. creation; holiness etc.)

Read more by clicking on a link:
Free Reprints
Main Site Articles
Most Read Articles
Highly Acclaimed Challenge Articles.
New Release Christian Books for Free for a Simple Review.
NEW - Surprise Me With an Article - Click here for a random URL

God is Not Against You - He Came on an All Out Rescue Mission to Save You

...in Christ God was reconciling the world to himself, not counting their trespasses against them... 2 Cor 5:19

Therefore, my friends, I want you to know that through Jesus the forgiveness of sins is proclaimed to you. Acts 13:38

LEARN & TRUST JESUS HERE

The opinions expressed by authors do not necessarily reflect the opinion of FaithWriters.com.

Member Comments
Yes & Amen! God's love gives us hope that the world can not offer. Often we feel like giving up but God's love keeps us holding on. We know that He loves us and that's all that really matters in life. = )