Faith
PLEASE ENCOURAGE
AUTHOR BY COMMENTING


Leave Comment
Message Writer
Hire Writer
Report Article
Song of The Wise Men
Message Writer
Hire Writer
Tweet
---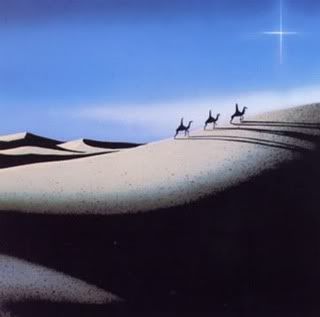 Wise men travelled far to see
Fulfillment of great prophecy.
Wise men watched and prayed
For this momentous day
Observing ,Searching
Trusting Scripture
Words preserved
Words of old-
Divine truth
Gloriously
Told.

Wise men were blessed
To meet the One
Who would tenderly
Shepherd us
Into His
Fold.

Wise men brought
The gentle King-
Their devoted hearts,
And gifts of Myrrh,
Frankincense and
Gold.

All the wise souls this day
Bring a gift of song
To Christ our King.
A song of praise
Sung bright and bold
A song well known
That can't grow
Old.

Christ our Shepherd, our eternal King
Brought us the greatest
Gift of all- Salvation
Given purely, lovingly
A gift – never meant
To be returned,
Rejected- Nor
Sold.


And when they were come into the house, they saw the
young child with Mary his mother, and fell down, and
worshipped him: and when they had opened their treasures,
they presented unto him gifts; gold, and frankincense, and myrrh. –Matthew 2:11


Julie Pisacane © 2010



PLEASE ENCOURAGE AUTHOR
,
LEAVE COMMENT ON ARTICLE
Read more articles by
Julie Pisacane
or search for other articles by topic below.
---
Search for articles on: (e.g. creation; holiness etc.)
Read more by clicking on a link:
Free Reprints
Main Site Articles
Most Read Articles

Highly Acclaimed Challenge Articles
.
New Release Christian Books for Free for a Simple Review
.
NEW - Surprise Me With an Article - Click here for a random URL

God is Not Against You - He Came on an All Out Rescue Mission to Save You
...in Christ God was reconciling the world to himself, not counting their trespasses against them... 2 Cor 5:19
Therefore, my friends, I want you to know that through Jesus the forgiveness of sins is proclaimed to you. Acts 13:38
LEARN & TRUST JESUS HERE
The opinions expressed by authors do not necessarily reflect the opinion of FaithWriters.com.
Member Comments
I can hear the soft music as the three wise men step in. I can smell the sweet fragrance as they open their gifts. Julie, Happy Christmas to you and to your family, and a Christ centered New Year.God bless.
This is wonderful. God bless you. I saw a church sign today that read, "God put the greatest gift on a tree, not under it." Merry Christmas to you and your household.
I'm with Thomas - wonderful! I so admire your gift to present the absolute Truth as art in word and image :) Blessings to you and your beautiful family this Christmas and every other day until Eternity! Hugs, Love and Laughter for your soul - Jody XXXO