Here's a very short form of poetry—one that couldn't be an entire Challenge entry, but one that will strrrrrrretch your poetic muscles. I suspect that this one will be a problem for our best poets (the ones who are sticklers on rhyme and meter).
A clerihew is a humorous 4-line poem with a real person as its subject. Here are its main characteristics:

1. Rhyme scheme is (aabb)
2. Line length and meter are deliberately uneven, for humorous effect
3. The first line consists entirely of a person's name. (In some variants, the first line ends with a person's name, but may contain other words)
4. Line 2 may be a "forced" rhyme, in order to rhyme with the person's name.
5. Lines 2, 3, and 4 are humorous commentary on that person's life. Clerihews aren't generally mean-spirited, but may poke gentle fun at the subject.
6. While lines 1 and 2 may be roughly equal in length, lines 3 and 4 may be quite long or quite short, with no regular meter.
Here's a clerihew written by its originator, a fellow named Edmund Clarihew Bentley:
George the third
Ought never to have occurred.
One can only wonder
At so grotesque a blunder.
And another, same author:
When Alexander Pope
Accidentally trod on the soap,
And came down on the back of his head—
Never mind what he said.
Why should poets be familiar with clerihew?
1. They're a great way to get out of a rut. If you're usually serious—clerihews are not. If you're a strict "meter-ist"—clerihews are not.
2. They give you practice in putting that little stinger at the end, which is a good skill for writers of both poetry and prose.
3. They're great for getting you to recognize "forced" rhyme—so that you can avoid it in more serious poetry. Essentially, clerihews are
deliberately
bad poetry. If you can recognize the badness, you're more likely to recognize it in your own poetry—and to take care of it!
4. They force you to practice an economy of words. Some of us tend to go on and on and on and on and on and on…
5. Like the Writing Challenge, a clerihew has a very specific prompt.
Write about a real person, living or dead.
6. Good poets should be familiar will as many types of poetry as possible—from the sublime to the ridiculous. It will make you a more well-rounded poet.
An aside: if you're getting impatient with these teeny little poem forms, hang in there—they'll get longer and more complicated over the winter months. I'm just creating building blocks, so to speak.
On to some clerihews, then! Here's a silly example, about my adorable granddaughter, pictured here: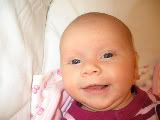 Piper Addison Earley
Has hair that isn't curly
In fact, I believe what her hair is called
Is bald.
And here's one I whipped up about a historical figure:
Edgar Allan Poe
Wrote sordid tales of woe.
Freshman students find him a great bore
And wish his raven would stop squawking "Nevermore."
And finally, one about a current celebrity:
Bette Midler
Isn't much of a fiddler
But on "Wind Beneath My Wings"
The lady sings!
That last one was pretty horrible, I freely admit. I included it to illustrate that "forced rhyme" bit. There's not much that rhymes with "Midler", so "fiddler" it was, despite the fact that the poem isn't about fiddling, not in the least.
Homework: Write one or two clarihews.

I'd encourage you to keep the "poking gentle fun" aspect of a clerihew in mind, particularly if you're writing about a living person. Clerihews aren't really the place for satire or for pointed political commentary.
As always, I welcome discussion on this form. Do you see reasons for mastering clerihew that I haven't listed here? Did you find them easy or difficult to write? What was hardest for you? Do you enjoy this form of poetry? Why or why not?