December 2012
FaithWriters, December 2012
News and information for the write-brained Christian!
Hark the heralded angels sing, "Glory to the new-born king." Peace on
earth, and mercy mild, God and sinners reconciled! ~ Charles
Wesley—Christmas Hymn

What a beautiful Christmas carol, don't you think? Such power packed into those two short sentences. But it truly does sum up the message of Christmas. After being "separated" from God for so many years, He sent His only son, in the form of a baby, to reconcile Himself to us. What a message of hope! And what a reason to sing and celebrate and give Him praise!

Be sure to check out the Out of the Mouths of FaithWriters section at the end of this newsletter as a few of our members share their favorite Christmas carols.
With Great Pleasure We Announce
2012 Page Turner Champion
How Can a Harmless House Cat be a Cougar? by Leola Ogle
Page Turner Runners Up
Just One Person by Beth Muehlhausen
Grace for the Night Hours by Dannie Hawley
Have you posted any articles lately? You may have noticed something really cool:

A RICH TEXT EDITOR.


Now you are able to use advanced formatting tools like Bold, Italics, Centering, even a smiley face! Please give it a try and let us know if you experience any issues. We are still running a few tests, but hope to also add the Rich Text Editor to The Writing Challenge very soon!

Beginning in January, Silver Members will be given 4 Challenge credits to use at any time throughout the year. Use one per quarter or 4 in a row...it's up to you! This is a great way for you to not only see what The Writing Challenge is all about, but also have the chance to win some cold, hard cash!
Visit The Writing Challenge Page for guidelines.

| | |
| --- | --- |
| | The FaithWriters Magazine is scheduled for takeoff this January! Keep your eye on cyber-space for this exciting mission! It's guaranteed to blast your socks off! |
TIS THE SEASON FOR...GROUCHES?
We have received many emails from members wanting more from the Critique Circle. You said while the nice comments and smiley faces were sweet, you wanted more in-depth critique...more helpful feedback...more, well... honesty. As best-selling Christian author Phillip Yancey said,
"I have a few, very few, trusted friends who will edit me with a scowl. Most people want you to feel good so they give you compliments about your writing, and these don't help at all (except emotionally). Really, you need some grouches to edit your work." Philip Yancey
We're pleased to announce that we have recruited several grouches who have agreed to honestly evaluate and critique your articles...with love, of course!

If you haven't yet tried the Critique Circle, or it didn't offer the help you were looking for the first time around, please give it another shot. Our grouches are guaranteed to offer constructive criticism and honest evaluation, laced with encouragement, that will help you grow in your gift and take your writing to a new level.

For more information on giving and receiving critiques in The Critique Circle, visit the official page.


There are still a couple more days to enter the "A Gift and the Gospel" blog for

Angel Tree.

Deadline for the blog is 10am on 12-2. Complete details on the BLOGGING CONTEST PAGE.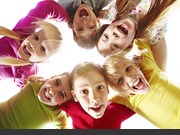 ANNOUNCING A NEW CONTEST FOR KIDS!

We are excited to announce

The New Year Contest: A Fresh Start

—a writing contest with a cash prize and publication of the winning entries for FaithWriter Kids!
The theme for the entries should be about starting fresh. The entry can be about the New Year holiday, or about someone who is starting again or making changes in their life. Entries will be accepted December 1st through December 12th, 2012. Open to any genre—a fiction story, true story, poem, devotional—anything you want as long as it has a fresh start theme. The word count needs to be between 150 and 750 words.
The contest will be divided into two age groups: 7-10 and 11-14. Judges will choose a first and second place winner from each group. First place winners will receive a gift certificate for $15 and publication in the FaithWriters' magazine in January 2013, and second place winners will receive a gift certificate for $10. Winners will be contacted and announced on the website at least by January 1st, 2013.
Submissions should be made by posting your story as an article on the kids' website with the subject "New Year Contest: [title]." A link to the story should be emailed to Amy at the email address: [email protected]
The entries will be judged on the following points: How creative, unique, and memorable is this entry? How well-written is this entry? Does it have a strong beginning and ending?
Did the author communicate the point they wanted to make to the reader?

This is a wonderful opportunity for young writers!

Check out the full submission guidelines at .
AN ETERNAL DIFFERENCE
If you are a FaithWriters member, we consider you partners with us in our effort to reach the world with the good news of Jesus Christ! To date, 131 people have accepted Christ as their Savior from clicking on The Jesus Page located on the FaithWriters Home Page. Here is a recent response we received from a new believer:

Date : 2012-11-27 21:04
type of prayer : first time prayer
First name : MarcosPostal code : 91977Town : Spring valleyCountry : United StatesE-mail : Please leave a comment. : Thank you for such beautiful prayer and helping me find my way back to God

Please continue to be in prayer for this aspect of our site.
We want you to keep writing exactly what God puts on your heart, whether fiction or non-fiction.The beauty of FaithWriters is that people are attracted by the wide array of articles found on our site. God can lead them to one of yours that applies directly to their current situation. Please do not let this natural addition to our site affect how you write. Many more benefits to help you grow as a writer are being planned. Your growth as a writer is one of our top priorities.
SAVE, SHOP, and SUPPORT!



With Christmas right around the corner, here's a great way for you to

save money on your shopping while helping to spread the Gospel around the world!



Before you visit Amazon.com, consider clicking through to the site using one of the links on FaithWriters.com. You will still get the best prices and selection Amazon has to offer, but FaithWriters will receive a small percentage on everything you purchase, from a book to a big screen television. Please keep us in mind for your Christmas shopping.



Click on

THIS LINKto start shopping now! Thank you for your support

!
OUT OF THE MOUTHS OF FAITHWRITERS
Last month, members were asked to share their favorite Christmas carol or song. Here are a few of the responses received:
"My favorite song is Silent Night, but that night was anything but silent. We always sang Silent Night in our home on Christmas Day. It still brings tears to my eyes when I sing it

." - Paul Mull

"My favorite is Peace on Earth, a duet by Bring Crosby and David Bowie. I adore this song and listen to it a gazillion times during the Christmas season." - Marilyn Slagel

"The Christmas Carol which I can't get enough of is 'O Holy Night'. A close second is the 'Hallelujah Chorus' from the 'Messiah'." - Pauline Brakebill
"Silent Night - Although one of my favorites, it became mine the year my mother and Son died. That Christmas we were singing it in church, I could hear them singing it to me from Heaven-- such joy untold!" - Sampson
WISHING YOU A VERY BLESSED AND MERRY CHRISTMAS! MAY YOUR SEASON BE FILLED WITH THE LOVE, JOY, AND PEACE OF OUR SAVIOR!
-- Mike & Bea and all of the FW staff