Encouragement
ENCOURAGE AUTHOR BY COMMENTING
LEAVE COMMENT ON ARTICLE As A Member OR Visitor

Message Writer
Hire Writer
Report Article
GIFTED OR ANOINTED?
by
Greg Nembhard
01/05/20
Free to Share
Author requests article critique
Message Writer
Hire Writer
---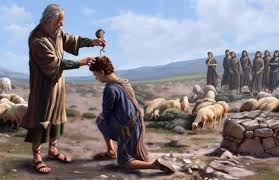 "Put them on Aaron your brother and on his sons with him, and anoint them, consecrate them, and sanctify them, so that they may minister to Me as kohanim." (Exodus 28:41)

Are you gifted, anointed, or both? Being gifted and being anointed are two different things, but they may work in conjunction. The Lord has blessed us with different types of gifts but how we use them have restrictions that are sometimes beyond our control. Being anointed carries with it an authority that is not inherent in being gifted.

God instructed Moses to anoint Aaron and his sons to hold the office of kohanim (priests). This was the beginning of the priesthood and the ceremony future generations would perform to grant that same authority to priests to this day. Aaron and his sons could not minister before God before they were anointed (authorized) to do so.

"Then Adonai spoke to Moses saying, "See, I have called by name Bezalel son of Uri son of Hur, of the tribe of Judah, and I have filled him with the Spirit of God, with wisdom, understanding and knowledge in all kinds of craftsmanship, to make ingenious designs, to forge with gold, silver and bronze, as well as cutting stones for setting and carving wood, to work in all manner of craftsmanship."" (Exodus 31:1-5)

Bezalel possessed the gifts necessary to design and build the items for the Tabernacle, which God instructed Moses to erect. Yet, Moses had to approve the work before Israel could erect the Tabernacle and before the priests could begin using any of the items.

You and I have gifts that may be useful to our congregation and the ministry but the congregational leaders and elders have the authority to deny our participation. Being gifted doesn't grant us automatic access. Aaron could not enter the Especially Holy Place before Moses anointed him to do the work of the High Priest.

New Covenant believers in Yeshua (Jesus) are not restricted to do the work of a priest within the walls of churches and synagogues—"But you are a chosen people, a royal priesthood, a holy nation, a people for God's own possession, so that you may proclaim the praises of the One who called you out of darkness into His marvelous light" (1 Peter 2:9). The Great Commission requires us to minister wherever we are, at all times—"Go into all the world and proclaim the Good News to every creature" (Mark 16:15). And our anointing (authority) is the Holy Spirit, though Yeshua —"But you will receive power when the Ruach ha-Kodesh has come upon you; and you will be My witnesses in Jerusalem, and through all Judah, and Samaria, and to the end of the earth" (Acts 1:8).

Are you gifted, anointed, or both? Be filled and subject yourself to the Holy Spirit and be put to action the gifts and authority of the Spirit of God. "Now there are various kinds of gifts, but the same Ruach. There are various kinds of service, but the same Lord. There are various kinds of working, but the same God who works all things in all people. But to each person is given the manifestation of the Ruach for the benefit of all. But one and the same Ruach activates all these things, distributing to each person individually as He wills." (1Corinthians 12:4-7, 12)
---
PLEASE ENCOURAGE AUTHOR BELOW
LEAVE COMMENT ON ARTICLE
AS A MEMBER
OR
VISITOR
Reader Count & Comments
Date
Good message. Thank you for sharing it. God bless you!
---
Read more articles by
Greg Nembhard
or search for other articles by topic below.
---
Search for articles on: (e.g. creation; holiness etc.)
Read more by clicking on a link:
Free Reprints
Main Site Articles
Most Read Articles

Highly Acclaimed Challenge Articles
.
New Release Christian Books for Free for a Simple Review
.
NEW - Surprise Me With an Article - Click here for a random URL

God is Not Against You - He Came on an All Out Rescue Mission to Save You
...in Christ God was reconciling the world to himself, not counting their trespasses against them... 2 Cor 5:19
Therefore, my friends, I want you to know that through Jesus the forgiveness of sins is proclaimed to you. Acts 13:38
LEARN & TRUST JESUS HERE
The opinions expressed by authors do not necessarily reflect the opinion of FaithWriters.com.
FaithWriters offers Christian reading material for Christian readers. We offer Christian articles, Christian fiction, Christian non-fiction, Christian Bible studies, Christian poems, Christian articles for sale, free use Christian articles, Christian living articles, New Covenant Christian Bible Studies, Christian magazine articles and new Christian articles. We write for Jesus about God, the Bible, salvation, prayer and the word of God.